December 30 2011
6
30
/

12
/

December
/

2011
19:12
That's what comes to mind every time I hear comments like: "I'm not going to eat all day to leave enough room for all the great food we'll have for dinner tonight."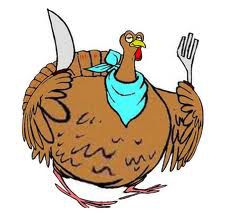 Not eating all day, starving, we end up eating excessively (anybody would) only to end up over-stuffed and in pain! When I think of indulging…I think of a decadent and pleasurable experience...and pleasure is not meant to be painful.
Whether at Christmas or any other holidays or festivities, it's possible to indulge without feeling the need to purge or detox the next day.
At the Eve of a brand New Year, here are some suggestions to help you finish the Holidays with less damage, and a brand new set of habits you might wish to embrace.
Get in the "Calorie Credit" Groove!
The Holidays are meant to be enjoyed, so if we can get to indulge while maintaining our weight, we have suddenly created a win-win situation. We all have a certain number of calories our body burns at rest (Basal Metabolic Rate) over a 24 hour period. For the average woman, the BMR is around 1300 calories and 1800 for the average man. If you eat more than that number and don't exercise, you are going to gain. But let say you work out the morning of the day you have a party, and you burn 700 calories, you are going to be in what I call a "calorie Credit" position. You suddenly have made room for an extra 700 calories you can indulge on without adding to the scale. You might also feel and look better in your clothes.
Eat before you go out to eat!
You have a big dinner at night? Focus on eating real clean that day, do not skip any meals, and have a small snack before you head out. Don't worry, you will still have room to eat, and indulge. The difference is you won't be attacking the appetizer table as soon as you get there, and you will be able to enjoy both the food, and the company without the belly ache!
Savour…savour…savour!
Last but not least, savour more! Don't cut out any foods, just eat less of a greater variety and take the time to savour.
Now that's pleasure!
Yours in vibrant health,
Isabelle