February 16 2012
5
16
/

02
/

February
/

2012
22:54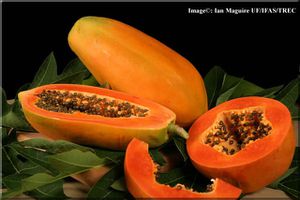 I have always loved the idea of feeding my skin from the inside out, to keep it young and healthy. But what gets me real excited is when I can double the nutritional effect, by applying a healthy dose from the "outside in". So I often give a "snack" to my face with some of the healthy fruits I eat, with papaya on the top of my list!
Called "fruta bomba" (bomb fruit)by the Cubans, papaya is indeed loaded with enzymes, is rich in antioxidants like vitamins A, C and minerals, which makes it not only a super fruit to snack on, but also a "super serum" for the skin.
I love the multi-purpose of the Papaya. The skin of the ripe papaya is an inexpensive face wash. I use some of the meat as a powerful face mask which stimulates collagen, diminishes fine lines, plumps the skin and gives it an instant glow!! It's also an effective remedy and "lotion" for dry skin, pimples and acne.
The papaya also helps to maintain healthy levels of blood glucose, thus ensuring a steady supply of glucose and high levels of energy all day.
So go ahead, snack your face!
Your's in vibrant health,
Isabelle