December 23 2012
1
23
/

12
/

December
/

2012
23:30
On a Sunday afternoon, about three weeks ago, I was watching a movie when I was suddenly overcome by a strange feeling, one that I hadn't had for a very long time. Call it "the blues", call it ''the dumps'' or any other depressing name, once it starts trying to envelop you, it's time to sit up and make an attitude adjustment. I thought to myself; "You have a great practice, lots of wonderful friends…you're single, but certainly not alone, so snap out of it, girl!''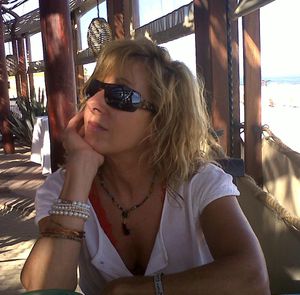 There is something about the Christmas season that is very unique and seems to bring out in us the most sugary, syrupy, romantic longings that no amount of pragmatic reasoning can repress. I call it the Christmas fairy dust that tends to sprinkle itself most heavily on single people. Even though this is not my first Christmas as a ''single'', I actually caught myself daydreaming about sharing the Holidays with that special someone this year.
This led me to think about all the singles and people alone at Christmas and how they deal with Christmas fairy dust, and I decided to do a little research on the subject.
Naturally I got caught in the old adage of "what you focus on expands" and was confronted with mountains of articles and commercial ads of every genre on "finding love at Christmas". I love Christmas movies, but I am really taken aback at the number of them dealing with this subject. Just last night, there was "A Boyfriend for Christmas" followed by "Single Santa Seeks Mrs. Claus". Every magazine I picked up had an article dedicated to the strengthening or the development of relationships during the Holiday season. Holiday greeting cards show couples frolicking together, singing carols together, and sharing special moments together. TV ads always show partiers dancing or sharing drinks with one another, families holding or hugging each other. Is it any wonder that singles find themselves bathing, even drowning in Christmas fairy dust? Have the Christmas marketers on Madison Avenue turned on the pressure to such a degree that we allow ourselves to turn into emotional, irrational lumps of pudding, devoid of any pragmatic sense of resolve or of any realistic expectations?
A friend of mine recently bought himself an SUV, a 10 speed road bike and a new motorcycle, all within the past three weeks. I couldn't help but ask, "What's with you? Are you going through a mid-life crisis at such a young age?" To which he replied: "No, I just feel alone…so I buy things to help me feel better." I felt like using one of Dr. Phil's most popular retorts, "…and how's that working for you?"
Yes, I do believe that there is a very real danger of making "irrational decisions" at Christmas time. The lights, the candles, the music, the magic of it all often make us do things we undoubtedly regret, or even to forget what's most important, and that is to focus on all the good things that surround us, and all our accomplishments.
So here's my very own list of "dos and don'ts" for singles at Christmas time:
· Don't go on a shopping spree in order to compensate for the "aloneness" you may feel. It's a very costly mistake that might take you months, even years to correct;
· Don't go on a food binge in order to numb the emptiness…you'll simply end up heavier and feeling worse;
· Don't go back to an "ex" to try and recycle your old relationship because of your fear of never finding someone else. Once the magic of the "night" and the Christmas season are gone, you won't only be facing tired decorations but you'll be confronted with a rehash of your past mistakes and the list of reasons you thank the stars you broke up with the person in the first place;
· Don't stay alone, wallowing in your misery and feeling sorry for yourself. A pity party is never attractive and absolutely no one ever likes to attend one
· Stop worrying about never finding someone to love; focus instead on developing within yourself, the qualities you are looking for in a partner. That is a sure way to attract the right person;
· ''If you want to lift yourself up, lift someone else" says Cory Booker, the mayor of Newark, New Jersey ~
Turning your attention from yourself and placing it on helping another not only makes you stop wallowing in your own issues, but it's the most fulfilling act of all. It fills your heart with the kind of love that is the most meaningful;
· Be grateful for all you have and be hopeful for all that is to come. Make a list of all the good things that have happened to you so far, and all the good things you've accomplished for yourself and for others. When you've finished writing this list, you'll be more grounded and realize how wonderfully abundant your world really is and the many blessings that have paved your path;
· Take care of your health, your most valuable possession. Eat clean, indulge in your favorites with moderation. Burn the excess by keeping up with your exercise program and really catch up on your sleep. A healthy body and mind are a sure way to boost your serotonin levels (the happy hormone), and to fire up a more positive energy and attitude with which to start the New Year.
Finally, in these past few weeks, I've not only been giving the subject of love and finding the right partner a lot of thought, but I've also wondered if it isn't fear more than anything that gets in the way, that keeps us closed to meeting potential suitors. The fear of being hurt, the fear of being deceived, the fear of trusting once again, the fear of full commitment and making another huge mistake. In her article "The Hunger for Emotional Intimacy", Brene Brown, a research professor at the University of Houston, shines a light into the inner chambers of our hearts, and indicates that shame and fear often get in the way of finding a healthy intimate relationship, and how fostering fearless vulnerability is so important. Her book new book "Daring Greatly" is now on the top of my "to buy" list.
In the meantime, why not shake off that Christmas fairy dust and cover yourself in Christmas power powder. Let it fill your heart with resolve, rational thought and of course, the purest kind of love...the love that compels you to do something kind and thoughtful for another, without looking to receive something in return.
Much love and light,
Isabelle